Collagen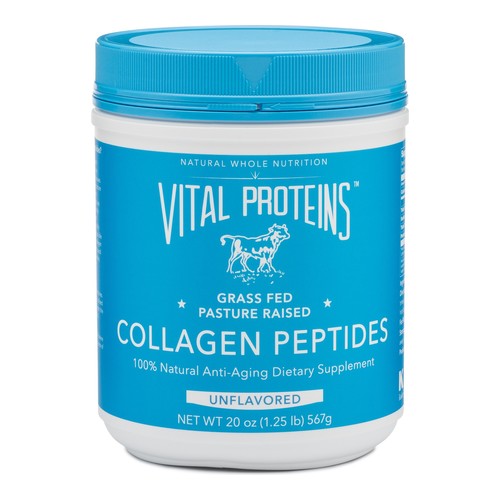 Vital Proteins is the brand I recommend.
Why is it important? Collagen is the most abundant protein in the body. It is an important building block for healthy bones, joints, skin, hair and nails. Collagen has shown to help improve gut function, sleep, joint health, skin vibrancy and elasticity and support healthy hair. Collagen peptides can be mixed in to hot or cold beverages, soups, casseroles, cookies, energy balls… You can make your own gummies, Jello desserts and fruit desserts using Gelatin (Vital Proteins' green canister). I have been using Vital Proteins for almost two years. I have experienced better recovery after hard workouts, and seen an improvement in my skin and hair.  If you are interested in trying Vital Proteins or would like to place an order, please contact me.
Bone Broth
  Osso Good is my favorite Bone Broth

Why is it important? Bone broth contains collagen, along with important minerals – calcium, magnesium and phosphorous- which are essential for bone health.  Glycine and proline are also found in bone broth. They are two amino acids which are vital to holding the body together. Bone broth has the same benefits as collagen plus the added minerals. Bone both aids in healing of the gut lining, assists in rebuilding the digestive tract, increases immunity and decreases inflammation.  Bone broth can be made at home or purchased.  To learn to make your own, go here. It can easily be made in a slow cooker or Instant Pot.
High Quality Probiotic or Fermented foods daily- 
Why is it important? The abuse of antibiotics in our culture, poor diets, and medications like birth control  have lead to disrupted gut flora in much of the population. Did you know that 80% of your entire immune system is found in your digestive tract? Many health issues originate in the digestive tract. Without a healthy gut, it is almost impossible to lead a healthy, vibrant life. It is important to rotate your probiotic, or the fermented foods you consume, to be sure you are including a wide variety of beneficial probiotic strains. Fermented foods include, but are not limited to, kefir, kombucha, yogurt, Kvass and sauerkraut. Quality matters. Do not think you can purchase sugar laden yogurt or generic canned sauerkraut and benefit from it. High quality brands include Kalona Super Natural Yogurt, Farmhouse Culture, Wildbrine, Bubbies and others.
Fermenting is a simple thing you can do at home. Brewing Kombucha, making yogurt and fermenting vegetables are all thing which can easily fit into a busy life and the rewards are delicious.

Here is a delicious recipe to get you started
There are two probiotic brands I personally use and recommend.
Prescript Assist 
Bio- Kult
Mineral Salt –
Why is it important? It is rich in trace minerals, critical for brain function, helps the adrenal glands  produce hormones, contains many of the major electrolytes, AND is vital for health. Yes, salt is vital for health. But do not think today's table salt is benefiting you. It is 98% sodium chloride, does not contain trace minerals, and almost always includes additives. I recommend rotating your sea salt. The different hues of color represent different mineral and algae content.
Celtic Sea Salt is the brand I use and recommend. It is widely available in the USA.
Save
Save
Save
Save
Save
Save
Save
Save
Save
Save
Save
Save
Save
Save